Yesplan 1.23, Nov 2017
Updating Bulk Prices§
From now on you can update resource price definitions based on an import file.
In combination with the capability to export data from Yesplan, this allows you to edit price definitions via another program, like Excel, and then to import them back into Yesplan.
It's also possible to schedule a price definitions update on a certain date in the future.
The export file for resources has changed and enriched in Yesplan to support the (new) capabilities of the import file. From now on, all price definitions are exported from the resource (each in a separate row), while in the past only the default price definition of a resource was available in the export.
Locations Immediately Visible in Tree View§
From now on, you can see an abbreviation of the location, in front of the event name, in the various tree views (in the popover, the event inspector and the stand-alone tree view).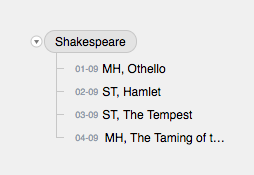 As soon as you enter the new field Abbreviation for a location, it will appear in the tree view. If you prefer not to see an abbreviation of the location in the tree view, then you can deactivate this in system preferences.

Moving Event Groups to the Same Location§
From now on, you can simultaneously move all events that are part of an event group or subgroup in the tree view to the same location.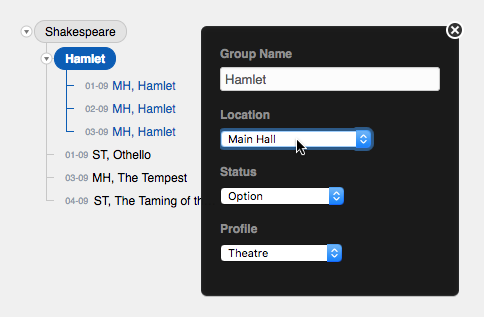 You do this via the action "Edit Group…" in the event group context menu. In the popover that appears, you choose the desired new location where all events will be booked. This currently isn't possible for an arbitrary selection of events, only for event groups.
Actual Number of Billable Units§
If you bill a resource per hour, day, week or month then Yesplan will automatically determine the number of billable units based on the duration of the booking. The billable price will be based on this, and every started unit will be billed.
From now on you can set and edit these billable units separately for both actual and planned times. For example, to indicate that a resource that was planned for 4 hours (and appears as such on the quote) and was actually used for 5 hours, but only has to be billed for 4.5 hours.
Read all about it in the resources manual.
Diverse Improvements§
General§
In the inspector of a booked contact link, you now see information about a person in the organization rather than information about the person themselves.
Administration§
In the settings you can choose the currency sign that you use in Yesplan. In addition to euro (€), dollar ($), pound (£) or Aruban florin (Afl.) you can also choose frank (Fr.) from now on.

The minimally supported versions of browsers were updated to version 55 or higher for Chrome, version 50 or higher for Firefox ad version 11.0 or higher for Safari.
API and Integrations§
Yesplan does Webhooks! Read all about it!

Additional ticket figures available in integrations with ActiveTickets en Ticketmatic v3.

You can link events in Yesplan to events that already exist in Ticketmatic v3.

Extra attributes are available in the API regarding "event costings price override" (vat included) and "resource cost model" (cost formula and price formula).